Portfolio And Contributions
CONSULTING AND CONTENT CREATION
Publications and Credited Contributions
Samsung Healthcare: I serve as a member of Samsung's content creation team and am responsible for suggesting specialized content ideas, as well as blogs and related content on healthcare technology designed to align with Samsung's specific strategic goals within the healthcare vertical.
Business Solutions Magazine: I am a contributing writer focused on B2B healthcare IT, regulations, EHR, data, and news. I also suggest topics and methods to increase engagement with content.
Health IT Outcomes: I work as a contributing author and am responsible for creating content on EHRs, data breaches, revenue cycle, patient portals and general health technology.
NutraScience Labs: I'm a contributing author on the topic of B2B nutrition and supplements, as well as market strategy and trends.
Cintas-Ready For The Workday: I am also a member if Cintas' content creation team, and submit article suggestions, as well as creating mid-length articles on leadership, healthcare, and education.
Samsung Business Insights (Healthcare)
Invited by Samsung to suggest ideas, and create short and long-form content for their Business Insights initiative in the healthcare sector.
Healthcare Technology Blog (Client)
Regular contribution fo long-form articles on the topics of ICD-10, HIPAA, healthcare marketing, ACOs, etc.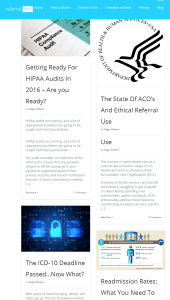 Revenue Cycle Blog Launch (Client)
Industry articles, whitepapers, social media: Established revenue cycle company looking to enhance their online footprint and establish thought leadership within the revenue cycle community. After conversations around core competencies, goals, services, and product offerings, we created articles for their blog launch specifically designed to highlight and drive interaction with specific products and services.
We continually coordinated to produce in-depth materials focused on RCM management, ICD-10 transition, billing and coding, and accounts receivable. We also maintained a content map to ensure content aligned with strategic goals and product focus.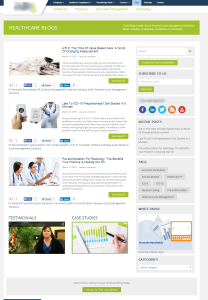 Breaking Into Healthcare (Client)
Content strategy, newsletter, eBook coaching, website and social/SEO consulting: Merger and acquisitions firm looking to enter the healthcare arena. Established hub-based content strategy that incorporated social, newsletter, and guest posting material that fed leads back to the home site, incentivizing visitors to either contact immediately, or sign up for future engagement. Core content message based around narrative common among target demographic, with off shoot posts rooted in key pain points designed to created familiarity, likeability, and trust of the client brand.

Healthcare IT
Content creation: Established publication in the IT sector looking for fresh content in the healthcare market. Contributed suggestions for expansion into current healthcare topics and issues, as well as weekly written content.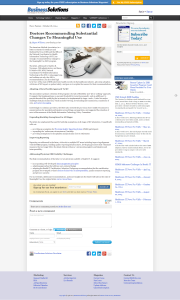 Health/Lifestyle
Website and publication built from the ground up. Involved assessing current market media offerings to identify brand-specific growth opportunities. (B2B content available here.) Connections with bloggers and industry thought-leaders were established as initial content to build social media followings (Twitter and Facebook Groups), and newsletter lists. Print publication created as a tangible reflection of brand values, and sourced from established authors.
Case Studies
Samples available upon request. Contact me here.
Press Releases
I create editorial-styled press releases that are more engaging than the sterile, disconnected pieces you find in your news streams. These articles are the format of what a press release for your product, service, or event could look like.